Around the Clock Care
When you are experiencing an emergency, we know there is no time to waste. Our team is here to take care of you 24 hours a day. Idaho Falls Community Hospital's emergency department is always open and we are ready to treat a wide range of medical emergencies and trauma cases in patients of all ages.
All of our emergency department nurses, doctors and technicians have gone through extensive training to ensure you receive comprehensive, compassionate care as quickly as possible. Our hospital has the latest technology and equipment, so you know you're getting the best treatment possible.
If you are experiencing a medical emergency, do not wait. Call 911 or come to our emergency department immediately.
Sometimes a trip to the emergency room can end with a stay in the hospital. Learn more about our inpatient care.

Emergency Department Features
Board certified emergency physicians are always available
22 emergency department beds
3 emergency operating rooms
2 fully equipped trauma rooms
Dedicated x-ray, CT, ultrasound, nuclear medicine
Direct bedding policy, so, if a room is available, you'll be taken back immediately instead of sitting in a waiting room
Private family consultation rooms
Helipad, so we can rapidly treat patients from outside our area
Translation services
Be Treated by the Best
Idaho Falls Community Hospital is proud to work with the top trained physicians, nurses and specialists in our region. Our care team has decades and decades of combined experience and is made up of specialists that span a variety of fields, ensuring our patients have access to whatever expert they may need.
Anesthesiologists
Cardiologists
Critical Care Specialists
Dialysis
Dieticians
Gastroenterologists
General Surgeons
Hospitalists
Nephrologists
Neurologists & Neurosurgeons
Oncologists
Ophthalmologists
Orthopedists
Psychiatrists & Social Service Workers
Urologists
Vascular Surgeons
Wound Care specialists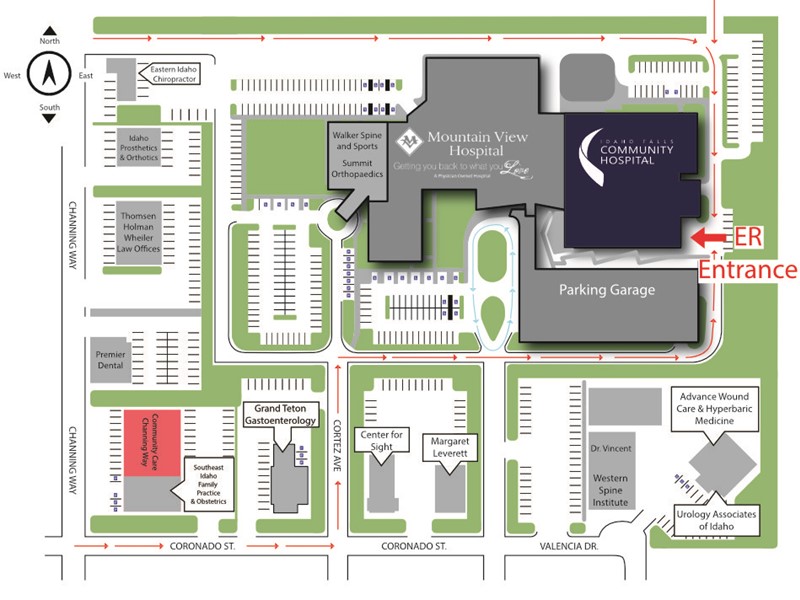 Directions to the ER
There are three ways to access our emergency department.
You can turn onto Coronado St towards Southeast Idaho Family Practice. Then turn left on Cortez Ave. Turn right before the Mountain View Hospital entrance and toward the parking garage. Follow that road as it curves to the left to get the ER entrance.
If you are driving on Channing Way, you can also turn East near the canal and follow the signs to the ER.
There is also access to our emergency department off of 25th Street via 25th Circle.
Parking is available in front of the ER entrance, in the parking garage, and in the lots surrounding the hospital (as shown on the map).
Follow Up Care
Our team is proud to care for our community members when they need it most. However, we know we are only one part of your care team. To ensure you get the best long-term treatment possible, we provide follow up reports to your primary care provider (if you list one in your admission paperwork).
We think it is important your doctor knows when you go to the hospital and why. Sharing this information can help your doctor make any necessary adjustments to your care plan and help you stay healthy.
Accepted Health Insurance Plans
We are proud to be in-network with the following health insurance companies.
ACPN (America's Choice)
Blue Cross
Cigna
DMBA
DOL/ OWCP / DOE
First Choice
Healthnet/Tricare

IPN

 
Liberty Health Share
Medicare
Medicaid
Molina
Mountain Health Co-op
Pacific Source
PNOA (Provider Network of America)
Premier Tech
Regence
Select EBMS health insurance plans
Select Health
Three Rivers
Town and Country
Triwest & CCN
Veterans Choice
Womens Health
We also gladly accept patients who have health insurance coverage through Medicaid or Medicare.
If you have questions about the cost of care, please reach out to one of our financial counselors at 208.538.0471. We treat all patients regardless of their ability to pay.
These guys are the best! No wait in the ER and we've received the best care from the staff and doctors I've ever seen. They're knowledgeable and not too busy to make sure we know everything they know. Thank you for being here and welcome to Idaho Falls!

Jeanne
The ER wait time is close to non existent and when I went through, all of the staff were very polite, experienced, and it was a very pleasant experience. I'm definitely coming back here if I'm ever in an emergency.

Wesley
I spent some time last week in the ER. Everyone was so nice and made my visit much better than I thought it could be. Thank you!

Diane
My mom was in the ER and later admitted to the 2nd floor. The staff was great. I especially want to thank Michael and John in the ER for their compassion and professionalism in taking care of my mom. I also want to thank Ricky, Gus and Bridger for getting my mom strong enough to go home.

Brenda